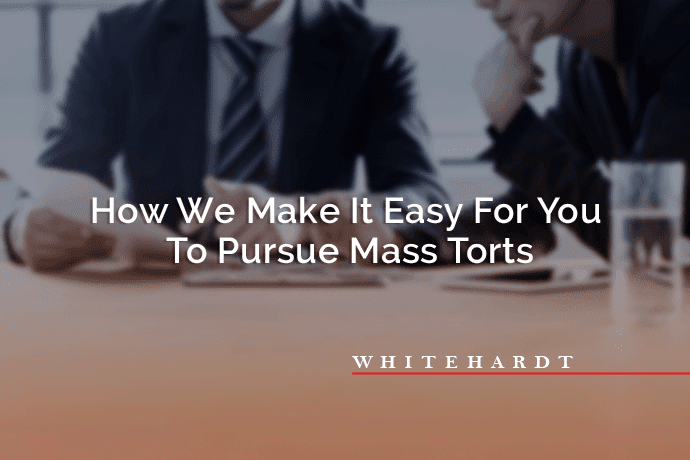 When a law firm is ready to start pursuing mass torts, it can seem intimidating. There are many considerations for a practice to make.
Which defective drug or defective product should you investigate?
How should your mass tort commercial look?
How can you best place the media for your mass tort advertising?
There is also the possibility of needing to hire more staff to handle the increased intakes. If you choose Whitehardt as your mass tort advertising agency, you will find that the process becomes easy.
We work with an established brand that gets results
Whitehardt is the marketing engine behind the Goldwater Law Firm brand. The Goldwater Law Firm is a nationally recognized brand that adds credibility to a mass tort advertisement. Potential plaintiffs feel comfortable and confident when calling the Goldwater Law Firm because they know that this practice has successfully handled claims for defective drugs or defective products before. In fact, our advertisements that use the Goldwater Law Firm perform eight percent better than our other mass tort ads.
We provide quality leads that have been pre-vetted by the criteria of your mass tort
When you begin to advertise for a mass tort, you are taking your law firm from a local practice to a national platform. Due to sheer geography coverage alone, that is going to increase the volume of leads coming to your law firm. If your intake team isn't prepared to manage this increased volume, leads could be dropped and good cases could be missed; voiding your masts tort advertisement's success.
At Whitehardt, we mitigate that problem by utilizing our already established call center to answer your mass tort calls. Each call is screened by our compassionate call center representatives using a script that qualifies the leads based on the criteria of the cases that your firm wants. Only qualified call leads will be forwarded to your intake team. This alleviates an issue of your staff being weighed down with the increase in work. You will not have to hire additional call center employees, and your intake team can focus on only the leads that are likely to become cases for you. When you utilize the Whitehardt mass tort program, a certain number of call center minutes are included in your investments.
We know what media to place to maximize the value of your spend
For mass tort advertising to be successful, you don't only need a great ad, but you need to place your ad in front of the right audience, With our nearly twenty years of experience in advertising for law firms, we know how to put your mass tort advertisement in front of the right people. Buying media for mass torts is  not like buying media for general personal injury cases where a similar demographic is likely to respond to your advertisements. Media buying for mass torts is not as "cookie cutter". Each mass tort has its unique demographic that needs to be considered. For example, a campaign advertising for Essure plaintiffs will be most likely targeting younger women, while a low testosterone mass tort advertisement's audience will skew older and male. With Whitehardt, you can rest assured that we can buy the right media placements no matter which mass tort you want to pursue. We know what shows to buy and which keywords to bid on.
Your Commercials Are Free
The cost of producing your television commercials and internet campaigns are on us. The production of these materials are included with your media investment. Taking that extra cost away means that your cost-per-acquisition is lowered and that your return on your investment is greater.
Whitehardt Is Making Mass Tort Advertising Simple
With Whitehardt, we make advertising for mass torts easy. We follow a simple formula to maximize the number of leads your ads generate. We create better ads, we make better media buys providing a bigger return on investment for your law firm.
Interested in learning more? Contact Whitehardt today and we will meet with your firm and walk you through the entire process.