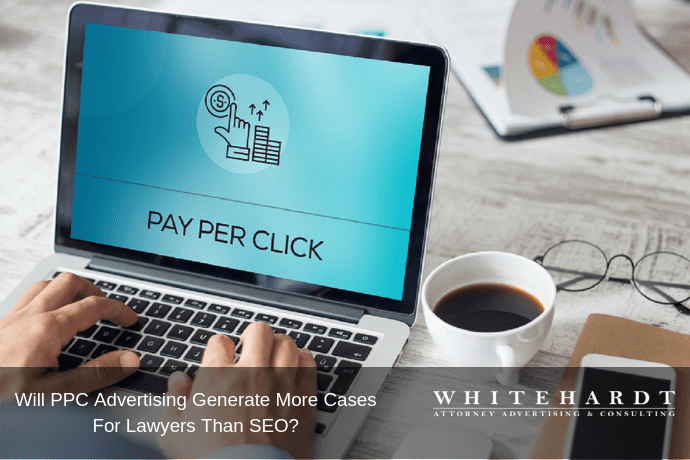 Curious About Pay Per Click Advertising For Lawyers?
Whitehardt Can Create A Campaign to Get You More Cases
"Should I invest in pay-per-click advertising or search engine optimization?
Do people actually click on Google ads?
If organic marketing is cheaper, why should I pay for advertising?"
These are the most common questions attorneys have when it comes to deciding which approach — paid advertising or organic — will be most effective for their law firm.
The answer is, they are both effective strategies!
At Whitehardt, an attorney advertising agency in Nashville, Tennessee, we work exclusively with attorneys across the country. The unique advantages of SEO and pay per click (PPC) is a vitally important topic to explore because we want to ensure our clients have a clear understanding of the marketing strategies that can grow their practice.
Search engine optimization and pay per click advertising for lawyers can be tough to learn, but we can help you dive in and determine what will work best for your law firm.
Organic And Paid Efforts, They're Both Important
Attorneys have many options when it comes to online marketing. However, PPC and SEO are two of the main strategies that, when used appropriately, will both generate more cases for your law firm.
Pay-Per-Click Advertising (PPC, Google Adwords)
A paid advertising campaign that allows you to target your ads so they appear in relevant searches on search engines such as Google.
Search Engine Optimization (SEO)
This strengthens your website's authority and increases its value in the eyes of viewers by providing relevant content, creating links across the web that link back to your site, and developing business directory citations for your office.
Many attorneys look at SEO and PPC as an either-or decision, however, at Whitehardt, we're big believers in the power of both. Simultaneously engaging in organic and paid efforts makes your law firm more competitive and provides the best results.
When You Should Consider PPC
However, we know marketing is not one size fits all. What works for one attorney doesn't always work for another. While PPC and SEO are both valuable, it's not always practical for every law firm to invest in both. Depending on the specific needs and goals of your firm, you can decide to utilize both organic and paid efforts or experiment with just one.
Here are the distinct advantages of PPC advertising and when you should consider investing in it over SEO:
Fast Results
If you're looking to generate leads quickly, a smart PPC campaign will be your best option. When you launch a campaign, the ads will appear immediately and potential clients will likely start clicking and calling your law firm shortly after.
Search engine optimization, on the other hand, is a slower approach. While SEO is highly effective, it takes time to organically improve your search rankings. Search engines only show websites they consider to be helpful and relevant at the top of the page. It can take a while for your website to build a credible reputation in the eyes of the search engine.
In other words, your website will not be established as the authority in the legal industry overnight. To achieve organic success, your SEO campaign will need consistent T.L.C. for several months before you start to see real growth.
If your main goal is to get business right away, you should consider prioritizing PPC over SEO.
Emphasis on Calls
While receiving calls from potential customers is important in any industry, it is especially crucial for lawyers. Chances are when people are searching for an attorney, they want to talk to one immediately because they're in a tough situation.
For this reason, PPC should not be ignored. You can set up call-only campaigns that replace the headline of an ad that traditionally directs users to a landing page with your phone number. This allows people engaging with your ad to call your law firm right away instead of clicking through to your website. Furthermore, Google offers marketers a "call extensions" feature for ads displayed on mobile devices, making it even easier for users to call your law firm.
If you want to focus on call-leads as opposed to forms, emails, or chats on your website, a call only-PPC campaign or utilizing call extensions is a smart move.
Customizing and Controlling Your Reach
With PPC advertising, you will have access to highly specific targeting options that allow you to customize where, when, and in front of who your ads will appear. This ability to refine and filter your ad's exposure will give you more control than any other marketing option.
For example, with a PPC campaign, you can set which exact keywords and phrases will trigger your ad, as well as words you do not want to trigger your ad. Additionally, you can target a specific geographic location or radius, time of day, age and demographic, and much more.
Basically, PPC gives you the unique ability to configure your ads to target individuals that are most likely to convert into leads. While organic efforts work to rank your website for certain words or geographic locations, this instantaneous level of control is simply only attainable with PPC.
Features Of PPC And SEO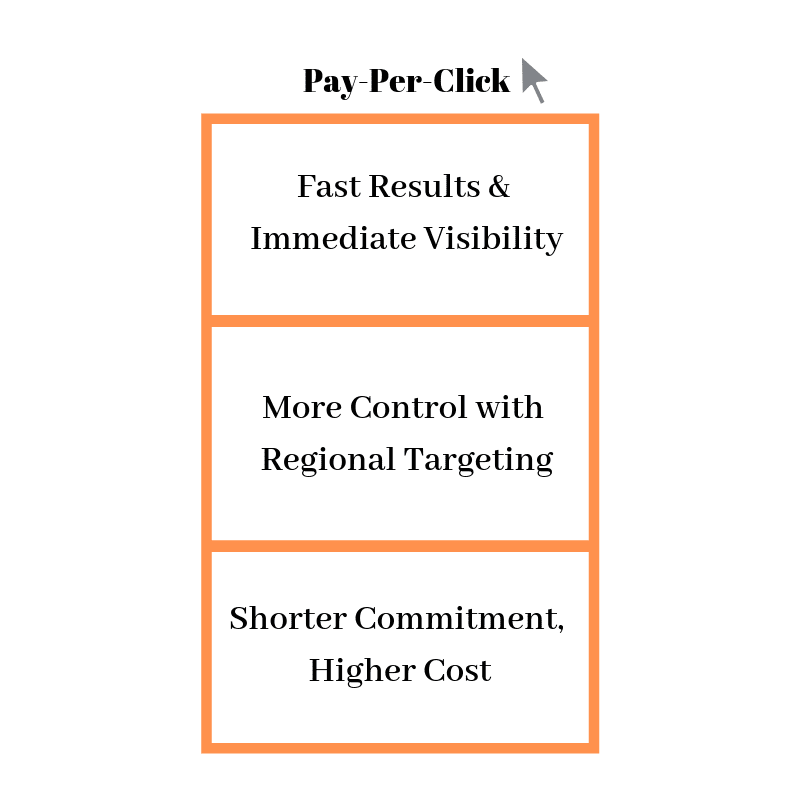 PPC and SEO both offer significant benefits and are great ways to market your law firm to potential clients online. In order to survive in the competitive legal industry, investing in some form of marketing is a must. At Whitehardt, we recommend that you integrate both PPC and SEO into your overall marketing plan to achieve the best results.
With that said, it's important to evaluate your needs and goals in order to choose the best marketing strategy for your law firm.
If you're looking for immediate results and would like the ability to target a very specific audience, a PPC campaign, with its highly sophisticated targeting features, may be the best option for you. However, keep in mind that PPC can be more of a financial commitment due to the high cost of keywords.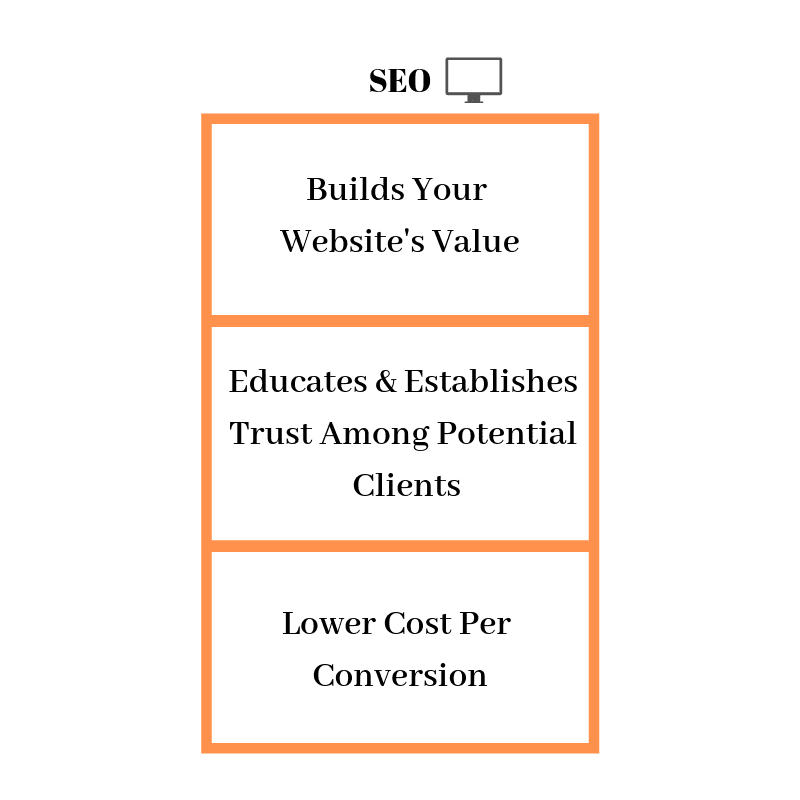 Did you know that legal keywords are some of the most expensive, averaging over $100 per click? According to Forbes, "lawyer" and "attorney" are among the priciest keywords in Google AdWords. Although the cost-per-click is expensive in the legal industry, if your campaign is smartly managed, you can see a high return on investment and substantial growth for your business.
While organic efforts will take longer for you to see results, its benefits can be equally valuable. Implementing smart SEO tactics will build your website's value and position your firm as an authority in your field. This will establish trust among potential clients in the long-run. Plus, SEO marketing has a lower long-term cost.
Use Your Budget Wisely With Whitehardt
At Whitehardt, we are known as the "efficiency experts" because we're dedicated to getting our clients the best results for their investments. We evaluate your market and implement the best strategies for your law firm.
While many attorneys wonder whether PPC or SEO has better results, both are important to the overall success of your law firm and will help you generate more cases.
Our experienced team develops advanced campaigns that make pay per click advertising for lawyers simple and effective. Furthermore, our SEO professionals know how to optimize your online presence to get you the best search engine rankings.
With Whitehardt, you can feel comfortable knowing that your organic and paid marketing are in good hands. We make the most of our clients' advertising budgets to achieve their desired results.
Contact Us To Get Started
Want to improve your PPC or SEO marketing? Contact us today and we'll help your law firm generate more cases. Call us at (615) 577-1010 or fill out our contact form to learn more about our services.